A chilly cross-country event
02.10.2019
Last Wednesday, a team of thirty girls from Years 3 to 6 took part in the Pipers Corner cross country fixture. It was a cold afternoon with rain on the horizon, but the girls stepped up to the challenge of the course and weather.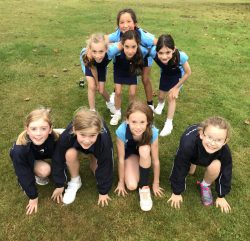 The girls were rewarded for their tremendous enthusiasm and determination by being victorious overall. In addition, we notched up first place in each age group: Daisy in Year 3, Lucia in Year 4, Olivia in Year 5 and Grace in Year 6. All girls ran exceptionally well and should be very proud of their team and individual performance.
Well done, everyone.