A delightful lunch time recital
18.03.2019
On Thursday, 14 March the Year Five girls performed at the High March Year Five Lunchtime Recital at the United Reformed Church, Beaconsfield.  This event was part of a series of lunchtime concerts organised by Mrs Elaine Tudor-Williams (one of High March's visiting singing teachers).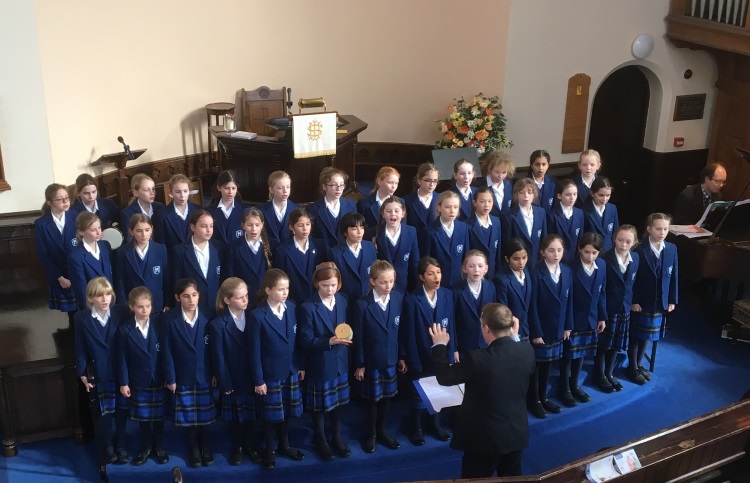 The Intermediate High March Voices started the concert with a rhythmic and stylish performance of the Swahilian peace song; 'Amani', composed by Audrey Snyder with a confident percussion accompaniment provided by Annabel and Charlotte.  This was followed by a beautifully melodious and lyrical rendition of the popular song 'Sing A Song In Unison', by Mary Green and Julie Stanley.  The audience was then treated to some delightful vocal and instrumental solo performances from Thea (Flute), Freya (Voice), Hafsah (Piano), Sia (Voice), and Leyla (Violin). The solos had all been well prepared with the girls performing with confidence and maturity as well as abundant musicality.
The Intermediate High March Voices then regrouped to give an enthralling finale to the concert, beginning with a delightful two-part arrangement of William Blake's poem; 'The Shepherd', with music composed by Harry Brook.  This was sung with strong feeling and wonderfully cohesive ensemble awareness.  The final song to be performed was 'My Favourite Things' from the musical 'The Sound Of Music', by Richard Rodgers and Oscar Hammerstein.  This started with a wonderful solo introduction by Annabel S. with the girls joining in shortly afterwards, performing with real gusto and enthusiasm to a clearly very appreciative audience.  Particular thanks go to Mrs Elaine Tudor-Williams for organising the concert and to Mr Andrew Melvin for accompanying the Intermediate High March Voices.
Well done to all girls in Year Five.