A welcome return to live Teatime Concerts
04.11.2021
Tuesday 19th October saw the first of this term's Teatime Concerts, and we were once again treated to a wonderful assortment of musical talent from the High March girls.  It was delightful to welcome back a live audience, having previously been required to host virtual-only concerts for the past eighteen months.
The concert was comprised of a number of high quality instrumental and vocal solos. These included confident Junior House performances from Ashara in Year 1 and Harriet in Year 2, as well as the delightful assortment of skilful performances from the Upper School girls. The captivated audience enjoyed a wonderful variety of music from the Classical Period all the way through to music from the present day.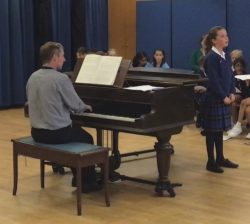 We are most grateful to all of our visiting music teachers for preparing the girls to perform so confidently, with additional thanks going to Mrs Wallington and the Music Prefects, Cerys and Clementina,for their help in making the concert such a success.
Congratulations to all of the girls who performed.