Guest speaker, Baroness Benjamin, delights her audience
19.07.2022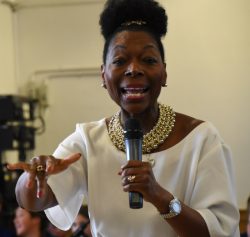 It was wonderful to welcome Year 6 parents, Governors and special guest, Baroness Floella Benjamin DBE, to the Year 6 Prize Giving at the end of term.
Mrs Gater addressed the audience, speaking of the limitless options available for High March girls; she applauded the efforts, resilience, diligence and successes of Year 6, reminding them they are 'little but mighty'.
The musical and dramatic skills of the girls were very much in evidence with the guests being treated to a lovely recital of 'Our Tiny Feet' by Siri W, a moving performance of 'Lead Me Lord', sung by all of Year 6 and Year 5, Suri H's performance on the harp of 'In the Clouds', a recital by Carmen H of an extract from 'Winnie the Pooh' and, finally, a slow and lyrical piano piece played by one of our music prefects, Clementina.
Baroness Benjamin then took to the floor, enrapturing her audience from the start. Recalling memories of arriving in England as a 10-year-old Windrush child, she shared the words of wisdom of her grandmother, namely 'Education is the passport to life'. Key to her message was that nothing is impossible in life if you learn, work hard, try your best, avoid temptation, learn to say no and stand up for yourself and what you believe in.  Baroness Benjamin proved to be a most inspirational speaker, inviting audience participation and even bursting into song.
As is traditional at a High March Prize Giving, the Head Girls took centre stage to deliver their personal 'take' on High March, this year the 'Horrible History of High March' (!). Betty and Jess C took the audience on a journey through time, beginning with the school's inception in 1926 up to the present time; there were plenty of amusing anecdotes along the way with some gentle teasing aimed at their parents and teachers!
The afternoon was a wonderful celebration and farewell to Year 6, who are sure to take away some very special memories of their time at High March.