Settling into Reception
25.09.2019
The girls have thoroughly enjoyed settling into Reception; they have had lots of fun getting to know each other and getting used to the routine.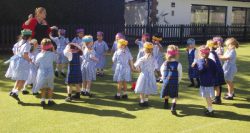 Our topic is 'All About Us' so we have celebrated birthdays, made cakes and learnt about the girls' families and homes. They can't wait to see what else we learn this year!
What a lovely year group!