Developing artistic appreciation at a young age
11.11.2021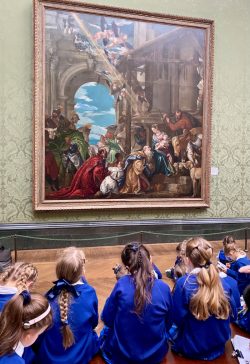 There was huge excitement last Thursday when Year 2 went on a trip to the National Gallery.
When we arrived at the Gallery, the girls set off in their groups, with great enthusiasm, to admire the paintings.  They each had a workbook (beautifully designed by Mrs Gray) and they were tasked to find particular works of art from across the centuries, from the Old Masters to the Impressionists.  They looked closely at each picture and were fantastic at spotting the tiniest of details.  The girls were amazed by the size of some of the paintings.
After lunch we were given a specialist talk by one of the National Gallery guides.  First, we were taken to see Aelbert Cuyp's  'A Hilly Landscape with Figures' and then 'Tiger in a Tropical Storm' by Henri Rousseau. The guide asked the girls to imagine they were in each painting and describe what they could see, hear, feel and smell.  It was wonderful to listen to their amazing ideas.  Some members of the public were so impressed they stayed to listen and complimented us on the girls' perceptive comments and their beautiful behaviour.  Well done, girls!
We would like to thank all the parent helpers who very kindly joined us on our trip, in particular, Mrs R who stepped in at the very last minute!