Nursery celebrate the Queen's Jubilee
06.06.2022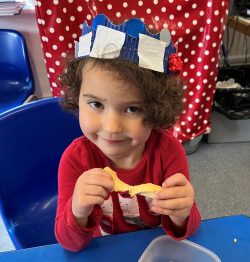 Jubilee Day at High March was on Friday, May 27 but Nursery was at Forest School on that day and so they had their own very special celebrations the day before.
Nursery children had a fantastic time learning all about the Queen, singing some Jubilee songs and listening to the wonderful tale of "The Queen's Knickers" at story time. The children each made their very own Corgi dog from a terracotta pot and they made crowns to wear at their party which had some very special treats including some rather fancy cupcakes, very definitely fit for a Queen!
A lovely day for the children to remember!