Festival of Nine Lessons and Carols
05.12.2022
Friday, 2nd December saw the annual High March Carol Service at St Mary's & All Saints Church, Beaconsfield led by Reverend Sharon Roberts.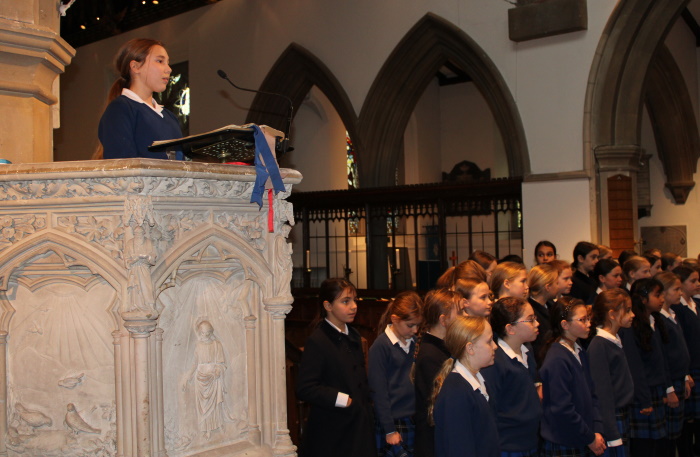 The occasion commenced with some wonderful pre-service Christmas music from the Flute Choir, setting the standard for the rest of the service. The lights dimmed as the solo first verse of 'Once in Royal David's City' was beautifully sung from the Organ Loft by Edith, followed by a magical candlelit procession by Year 3 down the central aisle. This very much set the festive mood for the service, with the congregation being treated to a wonderful variety of prayers, readings, poems and carols. Each year group, as well as the three Upper School choirs, sang a carol with tremendous feeling and enthusiasm, with Year 6's carol commencing with enchanting solos from Alex R and Sylvie. The final carol involved the whole school joining together to sing the popular traditional carol, 'The Sussex Carol' arranged by Jonathan Willcocks. These were all expertly accompanied by the church's resident organist and Musical Director, Mr Aaron King.
Each of the Year 6 classes recited wonderfully festive poems, with 6G performing A Child's Song of Christmas' and 6W performing 'A Visit from St. Nicholas'.
Throughout the service Year 6 girls read the traditional nine lessons from the pulpit. These were all delivered with clear diction and confidence by Jessica, Anna, Lara, Alaina, Sophie, Audrey, Maya, Anoushka, Johanna, Emily, Josie, Hermione and Emma, with Mrs Gater reciting the final reading. The service concluded with the popular carol, 'O Come All Ye Faithful', with Years 5 and 6 providing a delightfully soaring descant to accompany the final verse.
Well done to all the girls in Upper School and thank-you to Mr Hayes, Director of Music, and Mrs Leigh-Barclay, Head of Drama, for preparing the girls so thoroughly and to such a high standard.