A busy week in Nursery
23.01.2020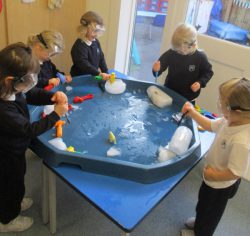 This week's topic in Nursery C is 'The Arctic'.  The children have been learning about the animals which live there, playing with Arctic animals and building igloos with sugar cubes. They watched a video about the Inuit people and did some themed craft work on the Inuits. 
Later on in the week,  they investigated some ice blocks which contained toy arctic animals. There was much excitement as they wore goggles and used tools to try to get them out!
A busy week in Nursery ….