A fizz-wigglingly fabulous day out for Year 4
11.02.2022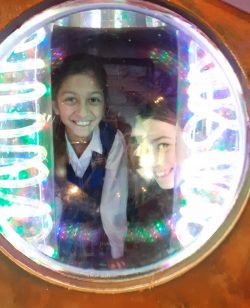 Last Thursday, Year 4 set out for a very exciting trip, offering two very different but both equally enjoyable venues!
In the morning we visited the amazing Roald Dahl Children's Gallery in Aylesbury. Everyone was enthralled by the extraordinary 'Giant Peach', crawled in wonderment through 'Mr Fox's Fantastic Tunnel' and whooped in delight as they were shrunk, via green screen, into Mike TV's television set! We finished off in the Great Glass elevator and all the girls could hardly contain their excitement as an alien appeared inside!
In the afternoon we enjoyed a change of pace, visiting the Discover Bucks Museum for a very interesting foray through the Roman era. We viewed the large collection of Roman artefacts held by the museum and were astounded to learn that many new artefacts have been added to the collection during the excavations for HS2! We were incredibly lucky that the archaeologist responsible for many of the new finds happened to be on site, overseeing the new displays, and took time to talk to us about the archaeological dig.
A totally splendiferous day all round!