A fun-filled 'Theatre Workout' for Year 4
01.11.2023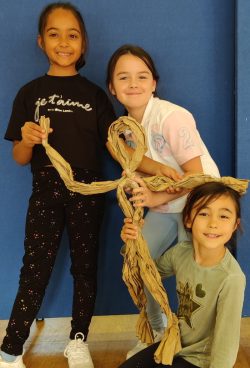 Year Four pupils recently had an exciting and drama filled day as we welcomed 'Theatre Workout' to High March.  
  The day was led by Rebeca and Marissa, who organised fun, high energy warm up games, looking at how we use our bodies, faces and voice.  We learned how to isolate body parts to be like puppets; we thought about how puppets move and we worked with partners to mirror each other, taking it in turns to become the puppet and the puppet master. 
After break time we made our own Bunraku puppets using brown paper. We worked to bring these to life, and to create our own scenes and characters based on fairy tales.
The girls had a fantastic day; they working with confidence and concentration whilst learning many new skills. Thank you to Theatre Workout for giving us such a fun filled dramatic day!