A hands-on day out for Year 3
05.11.2021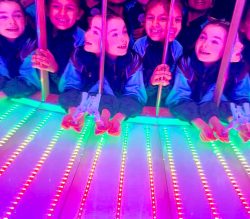 Year 3 enjoyed a day trip to the Look Out Discovery Centre in Bracknell recently. After a quick coach ride, the girls were excited as they arrived in the woodlands to enjoy their snack, before getting stuck into the science based, practical activities. The girls made their way around rooms such as 'Light & Sound', 'Water & Woodland' and the always popular, 'Build-it' zone.
Some of the exciting tasks included: taking photos of their shadow; igniting a hot air balloon; and creating the best paper helicopter, which the girls could test out on a huge indoor fan!
After climbing the eighty-eight steps of the LookOut tower, the girls enjoyed a well-deserved lunch and, of course, the trip to the gift shop.
A great day was had by all!