'A Little Bird Told Me'
05.12.2019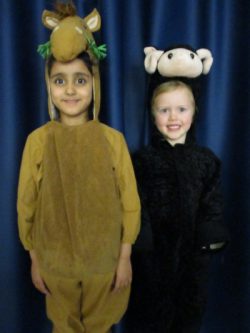 Reception parents had a real treat yesterday when they came to see their daughters' performance of 'A little bird told me'.
On a cold, snowy night in the middle of winter, little Robin was shivering away, wishing she could be somewhere warmer, when she heard the exciting news about the birth of a very special king far away in Bethlehem. She immediately set off to find the new baby and was joined on her journey by some sheep, camels, wise men and angels. A bright star shone up above, leading them all to the manger where the baby was lying.
The girls had really enjoyed rehearsing for the play and they delivered their lines beautifully. They clearly loved singing all the songs, particularly the one about the sheep making her way to Baaa-ethlehem…
Congratulations to the Reception girls for putting on a wonderful performance and a big thank-you to the Reception staff and, of course, Mr Hayes, our Director of Music.