A musical treat for the local community
29.03.2022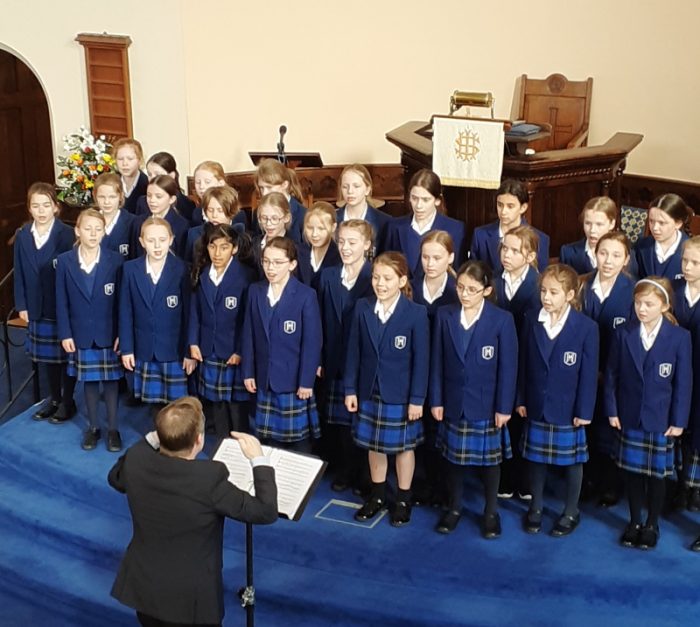 On Thursday, 17th March the Year Five girls performed at the High March Year Five Lunchtime Recital at the United Reformed Church, Beaconsfield. This event was part of a series of lunchtime concerts organised by Mrs Elaine Tudor-Williams (one of High March's visiting singing teachers).
The Intermediate High March Voices started the concert, immediately captivating the audience with an exciting and stylish performance of the lively Puerto Rican folk song, El Capotín, arranged by Lois Fiftal and Greg Gilpin. This was followed by a beautifully harmonious performance of Blackbird, by John Lennon and Paul McCartney, arranged by Audrey Snyder. This was a challenging two-part arrangement of the well known song, but the girls more than rose to the occasion singing with particularly assured harmonies and equally impressive vocal range. The audience was then treated to some delightful vocal and instrumental solo performances from Sophie (Piano), Sylvie (Voice), Jasmine (Piano), Alexandra R (Voice), Suri (Harp) and Edith (Voice). The solos had all been exceptionally well prepared with the girls performing with confidence and maturity as well as abundant musicality.
The Intermediate High March Voices then regrouped to give an enthralling finale to the concert, beginning with the wonderfully atmospheric two-part song; The Lighthouse, composed by Andy Beck. This was sung with strong feeling and wonderfully cohesive ensemble awareness. The final song to be performed was the catchy traditional Irish Folksong, Bandyrowe, arranged by Susan Brumfield. The girls performed with rhythmic gusto and enthusiasm to a clearly very appreciative audience with the challenging and memorable two-part melodies creating a particularly exciting finale to the concert.
Particular thanks go to Mrs Elaine Tudor-Williams for her hard work organising the concert, and also to Mr Andrew Melvin for his wonderful piano accompanying.
Well done to all girls in Year Five.