A 'Potting New Year'!
15.01.2020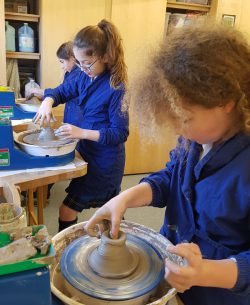 Our six potters wheels have been running double speed during the first two weeks of the new term, with Years 3, 5 and 6 all throwing pots in their Art lessons. The quality of the older girls' pots has improved significantly from their previous attempts whilst Year 3 girls have taken to this tricky new skill like ducks to water; learning these skills early is particularly advantageous in terms of improving co-ordination, manual dexterity and overall confidence.
What a very special and extremely enjoyable resource we have to share with our girls at High March! We look forward to seeing the fruits of their labours on display in the Art Room.