A spotty week of fun!
23.11.2021
Our Head Girls, Jess and Betty, led a fantastic week of activities leading to Children in need day on 19th November. The Head Girls launched the week in assemblies at Upper School and Junior House, sharing all the fun activities and games in which our pupils could get involved to raise money for the many projects Children in Need support which help vulnerable and less fortunate children.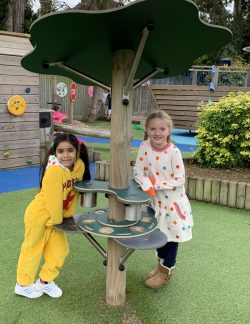 The school gates at both Junior House and Upper School were a hive of activity each morning as our Head Girls, dressed in Pudsey and Blush onesies, and supported by Ellie and Charlotte, the Year 6 Charity Prefects, sold Children in Need goodies.  The school was a kaleidoscope of bright yellow and multi-coloured spots on Mufti day when the pupils had the chance to take part in activities such as guess the name of the bear, guess how many sweets in the jar, count the number of Pudsey bears, the Pudsey assault course challenge, bean bag throw challenge and the human fruit machine game! Treats were also given out at morning break in the form of Pudsey biscuits for Junior House children and cakes, made by the Year 6 girls, at Upper School. The day was a huge success and raised over £1074.80 for Children in Need.
Many congratulations and thanks to our Year 6 girls for organising such a wonderful day and to everyone for their generous donations.