A trip to see where the Queen lives
10.11.2021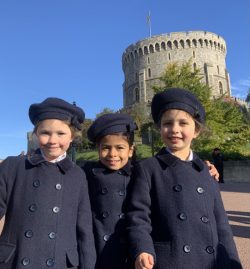 Reception had a lovely day at Windsor Castle last Friday. The journey was quick and easy and the girls loved being on the 'big bus' for their first ever school trip. 
When we arrived at the castle, we had our snack and headed off to see the Queen's house. It was so exciting to see the Royal Standard flying, which meant, of course, that the Queen was home! First of all, the girls participated in a fun workshop where they had to find the naughty dragons hidden in the castle and then we entered the Queen's reception room to listen to a story about how the naughty dragons were caught by King George…
As we walked around the chapel to see where the Duke and Duchess of Sussex were married, the girls had to be super quiet. To their great surprise, they then came across a real guard – it was a little scary at first but they soon decided it was fun to march alongside him!
By this time, we were all exhausted. The girls climbed aboard the bus and, in no time at all, most of them were fast asleep dreaming about the amazing day they had had at Windsor Castle.