A very spotty day!
21.11.2023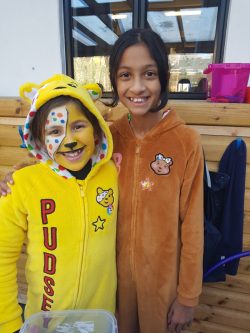 On Friday, Upper School was filled with colourful mufti outfits and excitement as our pupils embraced the activities in support of Children in Need. Our Head Girls, Evani and Soraya, led a very informative assembly and were out before and after school, selling Children in Need merchandise.
At break and lunch time, there was a number of activities for the girls to enjoy, notably bear pong, pin the bandana on Pudsey and a human fruit machine…!
Junior House children also joined in the fun and they too were seen in a variety of spotty outfits. The Pudsey biscuits were particularly popular!
Thank you to everyone for their generous donations and to our Head Girls for organizing such a successful day.