A very spotty day
22.11.2019
Last Friday, our two Head Girls, Thea and Leyla, introduced us to this year's Children in Need day by leading Assembly at Upper School and Junior House.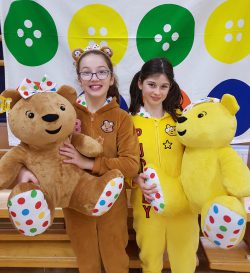 The two Head Girls and their mothers had been busy selling Pudsey merchandise in the run up to the day and it was lovely to see so many children and staff wearing their Pudsey headbands along with plenty of colourful, spotty clothes!
The Head Girls had also organised several fun, fundraising activities for everyone at Upper School, including 'Pudsey Bear's Bakery' (an extremely popular cake sale), a guess the name of the bear competition and a hula hoop extravaganza.  Girls at Upper School were also invited to visit 'Blu​sh's Beauty Parlour' to have their hair braided.  A raffle was drawn in Upper School Assembly this week and Caroline in Year 4 was the lucky winner of a giant Pudsey bear!
Junior House girls also joined in the fun, designing a plate of food for Pudsey and enjoying a Pudsey Treasure Hunt and a Teddy Bears' Picnic.
Thank you to everyone for taking part so enthusiastically and for supporting such a worthwhile cause and thank you to the Head Girls and their mothers for their excellent organisation of this event.