An immersive Egyptian day
28.02.2023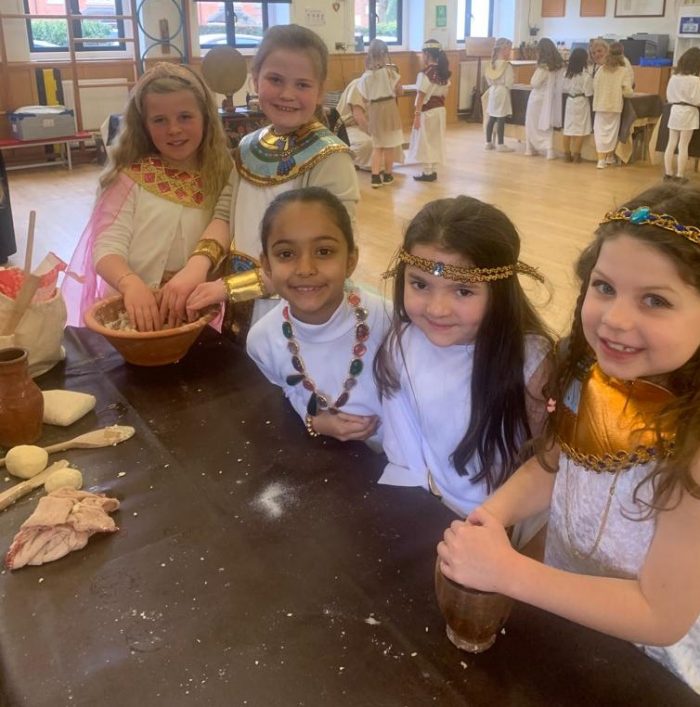 As Year 3 arrived in school, it was clear to see that a lot of thought and preparation had gone into some outstanding Egyptian costumes for their off-curriculum Egyptian day. We had wonderful Egyptian citizens, as well as some amazing Pharaohs and we were so impressed at the creativity the girls (and parents!) had shown! 
The girls were keen for their day to begin and, first off, we met our leader who explained the 'marketplace' style activities. The girls carved scarab beetles into soap, made clay Canopic jars, and also some Egyptian-style bread, which they took to the shrine to offer it to the gods. Once all the morning's offerings had been made, the girls were gathered round to listen to a captivating story all about the Nile flooding!
After lunch, the girls were asked to return to the hall where a banquet had been set up ready for Queen Nefertiti.  With her own fan bearers, she was able to enjoy the performances of story-telling and dances created by the girls and performed with great gusto. We even had a raging bull and a very hungry crocodile from the Nile!
A wonderful day was had by all, and the girls were thrilled with all the Egyptian artefacts they were able to take home!