An Indian Dance Treat for Diwali
18.11.2020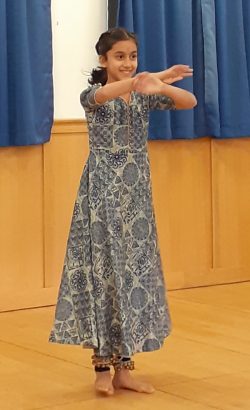 In Assembly at Upper School  this week we were delighted to receive a display of Indian Dancing from Malaika. She had been working towards her Grade 1 exam in Kathak Indian Dance; this was unfortunately delayed by lockdown, and so she decided instead to share her examination dances with us in celebration of Diwali.
Everyone was enthralled by the beautiful symbolic movements and the sound of her ankle bells.
A real treat for everyone – lovely work, Malaika!