Bear ears and brightly coloured spots everywhere!
24.11.2022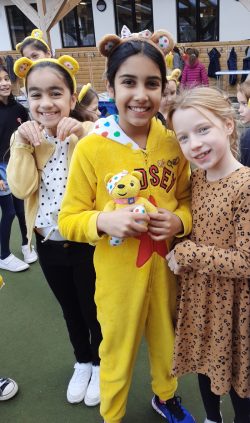 Children in Need was once again strongly supported at Upper School. Our Head Girls, Jess and Anna, led assemblies at both Junior House and Upper School highlighting the work of charities supported by Children in Need, launching a Pudsey colouring competition and promoting the programme of activities they had planned for Children in Need day.
The School became a sea of brown and yellow furry bear ears and brightly coloured spots on the day itself as the girls across the School came to School wearing mufti clothing. Everyone had the opportunity to take part in a Pudsey bear hunt to find Pudsey hiding in the playground, guess the name of the Bear and enjoy a delicious Pudsey biscuit courtesy of chef, Martin! At Upper School during morning and lunchtime breaks there was plenty of fundraising activity as the girls took part in Bear Pong, Stick the Spot on the Bandana and Guess the number of sweets in the jar.
Enormous thanks to Jess and Anna and their mothers for organising the wonderful events for Children in Need and thank you all for your generous support – at the last count, just over £1.000 had been raised.