Budding scientists in Year 5
04.02.2022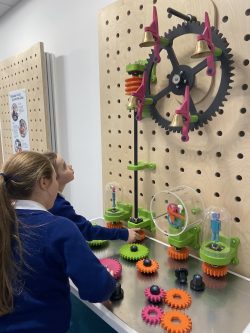 The Year 5s were treated to an exciting day of science enquiry and discovery at Science Oxford yesterday, for their Spring Educational Visit. 
Upon arrival at the recently constructed facility, we were greeted by our two fantastic learners for the day. They would prove engaging, knowledgeable and enthusiastic, making it a wonderful experience.
Our first activity was based around measuring light and the girls were tasked with designing their own investigation into the best sunglasses, using a range of equipment, including data loggers. The girls responded magnificently to the challenge, so much so they were set additional tasks!
After a short break, we were thoroughly entertained and mystified in the theatre!  Sinking and floating, gravity defying objects and strange contraptions all took centre stage.  Not all of the demonstrations were revealed and the girls were tasked with considering possible solutions once back at School and sending them to the Science Oxford Team. In return, the team would share the secrets held within!  The girls had a lot fun putting their hypotheses together…
After lunch, we finally got to explore the fantastic Science Lab, which we had been walking through over the course of the day.  A wonderful mix of practical, thought-provoking and entertaining tasks was at hand and was thoroughly enjoyed by everyone.  A superb way to round off our time with Science Oxford..