Celebrating the girls' achievements in Assembly
15.01.2021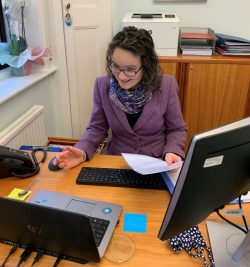 Assemblies on Zoom – why not?  
Approximately one hundred and fifty Upper School girls logged on to Zoom at 8:30am this morning to 'meet' Mrs Gater and to take part in the weekly celebration Assembly. Mrs Gater congratulated the girls on a super week of remote learning and said how impressed their teachers had been with their enthusiastic approach and 'can do' attitude to learning on line. Year 3 girls were singled out for a special mention as this is their first experience of remote learning at Upper School.
Mrs Gater went on to give out the awards for Star of the Week, noting that a number of girls had won the award for super learning on line. Girls who have had birthdays this week, including one whose birthday is today, were also congratulated.
Mrs Gater concluded Assembly with a short p rayer, reminding the girls that every little effort really does count, and she wished them all the best for next week's learning.