Costume through the ages
04.03.2020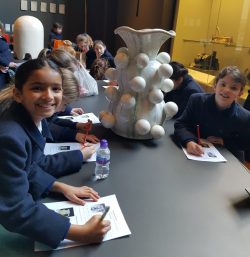 As part of Educational Visits day, Year 5 recently went on a visit to the V&A museum in London. The focus of their visit was "clothes" as they about to embark on a project to make clothes in their Design and Technology lessons. We were given a super workshop about the development of clothes through the ages and how materials are produced, and the girls were then able to try on some particularly interesting items of clothing from bygone eras!
After lunch and a visit to the shop we went up to the Ceramics gallery on the fourth floor to see two pots by ceramic artist Kate Malone, whose work we will be studying in Year 6. The pots, Snow Lady Gourd and The Millennium Jug of Symbols, show Kate's love of vegetable motifs and use her famous crystal glazes.
We had a thoroughly inspiring and enjoyable day and look forward to making some inspiring objects ourselves!