Discovering the Romans….and Roald Dahl
24.02.2023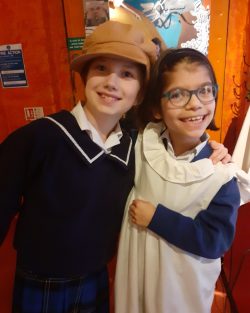 On Tuesday 21st February, Year 4 were very excited to set off on a trip to both the Discover Bucks museum and the Roald Dahl gallery. 
We had a super day handling Roman artefacts, some of which were newly discovered by the excavation of the HS2 site. In addition, we visited the newly refurbished galleries to view other Roman treasures including Siitemina's pot, a special item, as it belonged to the first person in Buckinghamshire for whom we have a name.
Later in the day we visited the Roald Dahl gallery and had a fizz-wigglingly magical time crawling through Mr Fox's tunnel and getting inside the Giant Peach. Our hosts told us plenty of fun and informative facts about Roald Dahl and his work and we role played Augustus Gloop falling into the chocolate river!
After a visit to the shop to buy some exciting treasure, we returned home full of great memories of a super day!