Drama Success for Mackenzie
10.05.2021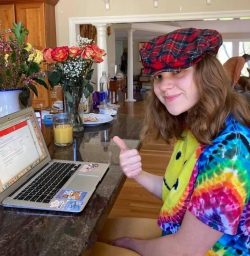 Former pupil and member of Thistle House, Mackenzie, has plenty to celebrate as she has just heard that she has secured a highly coveted place at the Conservatoire of Scotland for this September.
During her time at High March Mackenzie demonstrated her love of the Performing Arts through participating in numerous productions and tea time concerts. On leaving High March Mackenzie moved to Queen Anne's School in Caversham for several years before relocating back to the her native Boston in the United States. For the past few years Mackenzie has been a pupil at Walnut Hill School for the Arts in Massachusetts where she recently played Oberon in Shakespeare's "A Midsummer's Night Dream".
We wish Mackenzie every success with her further studies in Glasgow in the Autumn. As you can see from the photo, Mackenzie is very proud of her Scottish heritage!