Exploring the toys of yesteryear
18.10.2019
Last Thursday Year One enjoyed a fantastic visit from History Off the Page as part of their topic on Toys.  The morning started with an interactive museum where the girls could play with a range of old and new toys.  After break it was time to undertake an archaeological dig with discoveries ranging from Roman pottery to Rubix Cubes.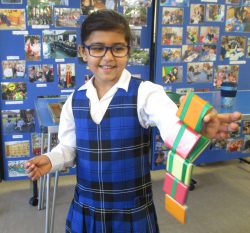 In the afternoon the girls made a variety of toys from balancing parrots to peg dolls.  Throughout the day the girls participated with smiles on their faces and learnt a great deal about how toys have changed.
Our thanks go to all the parents who helped out on the day.