Hairspray the Zoom Musical
03.07.2020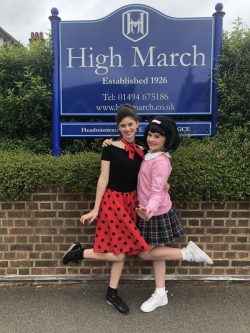 For the last six weeks Year 6 have been rehearsing 'Hairspray the Zoom Musical'.  It has been fantastic for Year 6 to be rehearsing together again, even though they have been in three socially distanced bubbles!
The girls have been recording the script at home and a video has now been created which combines their scripted lines along with a live video recording of a few of the songs and dances too. A final recording will be available to watch soon.
The girls have worked so hard, against all the odds, and we have succeeded in creating a truly memorable production, quite a feat given the current pandemic.  A big thank you to all of Year 6 for their hard work and dedication, to the parents for helping with the home videos, to the Year 6 bubble staff for rehearsing with the girls, to Mr Honiball and Mr Wright for their support and, finally, to Millie H for editing the film and being a fantastic Assistant Director and Choreographer.
It has been an experience to remember!