'Happy Days with Friends' – at last!
09.09.2021
We were all delighted to see the Beaconsfield Country Fayre return at the end of August and some of the girls at Upper School were hard at work at the end of last term preparing their entries for the Children's Art Competition. Many local schools field entries and the competition is judged by renowned local artist, Denis Pannet MBE. The theme of the contest this year was 'Happy Days with Friends', which is, of course, what we were all longing for after the long months of lockdown.
High March has an enviable record of winners in this competition, and this year was no exception, as High March artists took the majority of prizes in all age groups. Well done to all our winners: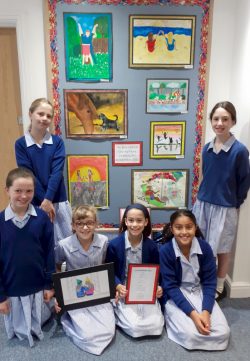 YEAR 6 Leavers (July 2021)
1st Jeena   1st Elsa  3rd Megan 
YEAR 6
                                                                        1st   Sofia 
YEAR 5 
2nd Jasmine    2nd Alexa    3rd Trinity
  YEAR 4 
            1st Shaan   1st Elisa   3rd Elizabeth  
 Great work as well from all those who took part and narrowly missed a prize.