High March sweeps the board at the Beaconsfield Country Fayre
18.09.2019
During the August Bank holiday weekend many High March families will have visited the annual Beaconsfield Country Fayre. As always, High March fielded a very strong entry int the children's Art Competition judged by renowned local artist, Trevor Crompton. The theme this year was "The Jungle" and this inspired all our young artists in Upper School to produce some really fabulous work in a variety of media.
We are thrilled that High March girls won 10 out of the 12 winning positions:
Year 3 category: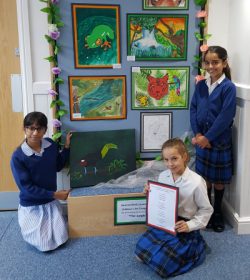 1st Sofia G-C
2nd Betty
3rd Talia
Year 4 category:
1st Jeena
2nd Eva T-B
3rd Ishani
Year 5 category:
2nd Charlotte
Year 6 category:
1st Sofia T-B
2nd Eliza
All the girls' entries, including the winners', are on display in School and are well worth a look!
Well done, girls!