Jubilee Celebrations
08.06.2022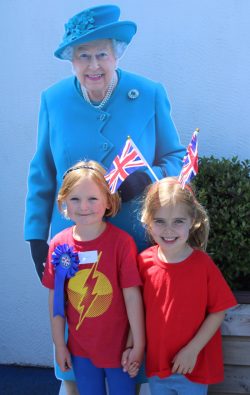 High March was a sea of red, white, and blue as we celebrated The Queen's record-breaking Platinum Jubilee in May. Pupils across the school took part in exciting Jubilee activities throughout the day all with a royal theme. 
At Junior House the girls took part in a drama activity based on the queen, using the story 'The Queen's Knickers' as a prompt.  The girls wrote and performed a report about the missing knickers. The girls made their own Jubilee flags and crowns, played royal bingo and took part in a quiz about the Royal family, as well as having a go at some Royal sporting events including horse racing! The Queen even made an appearance in the guise of Junior House staff dressed up as the Queen!
At Upper School the girls were placed in teams across year groups, each representing one of the Queen's royal residences. Teams took part in quizzes about the Queen's life, a WebQuest to investigate other record-breaking British monarchs, made special Jubilee rosettes, performed a 'Right Royal' drama and competed in the 'Royal Games' in the playground with the PE department.
The sun came out for the whole school to come together for a splendid street party style lunch in the Junior School playground full of delicious picnic food including special Jubilee cupcakes! A life-sized cardboard cut-out of The Queen looked on as the girls sat eating together on long tables. Afterwards everyone assembled on the lawn for three rousing cheers for Her Majesty before singing the national anthem.
The day was a wonderful celebration of our Queen's long reign, something we shall not see again for a long time. It was also an amazing celebration of all that is wonderful about High March too: a strong sense of community, teamwork and friendship.