Learning all about 'The Lady with the Lamp'
05.02.2020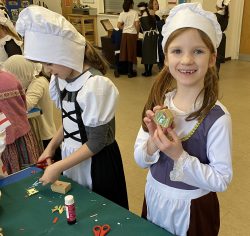 On Friday 31st January, Year Two had a visit from History Off The Page to learn all about Florence Nightingale. They found out all about her background, the work that she did, and why she is remembered today.
The day began with the girls applying to Miss Nightingale for various jobs in her hospital and making keepsakes to remind them of their loved ones back home on the long journey to come. Once they were all prepared and ready, the girls set off on their journey. They made it as far as London Bridge Station, but disaster struck! All their suitcases were lost! They girls then had to sort through the luggage and look at the items inside in order to work out to whom they might have belonged.
Later on in the day, the girls finally arrived at Scutari Hospital. Kitted out with their sashes and their lamps, they were ready to begin work. They undertook a variety of different roles within the hospital, such as nurses, cooks, hospital orderlies and gardeners. Between them, they worked together to make Scutari Hospital a cleaner, safer, more hygienic place for the wounded soldiers in the Crimean War.
All the girls had a fantastic day and looked fabulous in their Victorian costumes. It was wonderful to see our parent helpers getting into the spirit of the day too. The girls learnt a great deal about Florence Nightingale and the work that she carried out, and had an excellent time as well.