Looking after the planet
04.12.2019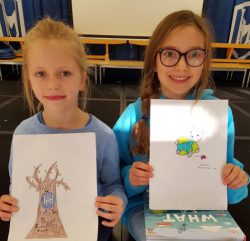 The new Eco-Committee has been working hard this term to begin to put into action the key targets of their Silver Award Action Plan.
With one of the main areas being identified as 'Energy', both the Upper School and Junior House Eco Committee enthusiastically took to the task of creating and presenting a 'Switch-Off' themed assembly.  In Upper School it will be hard to forget the pleas of the 'High March Light Bulbs', Bulbert, Bulberta and Bulborio -'Let's hope they switch us off tonight!' and in Junior House the committee stood up very confidently to explain the importance of saving electricity in a bid to save the world.
Competitions have also taken place to support the tree-planting work of 'The Woodland Trust'. An eco-mascot was designed in Upper School which we look forward to seeing around next term! The proud winner was Trinity in Year 3, with Jessica R in Year 6 as the runner-up. In Junior House girls designed a leaf to go on our eco tree display next term. They had some amazing ideas and we are proud to announce the winner was Ayaana with Elisa the runner-up, both in Year 2.
With the JRSOs continuing to encourage safe and environmentally friendly travel, and many children taking to action on the weekends to pick up litter, as well as encouraging more recycling in their local community, it has been wonderful to see many eco warriors making a difference across the school and the local community.
Merry Christmas and best wishes from the Eco Committee!