Our Division 10 swimmers excel
23.05.2022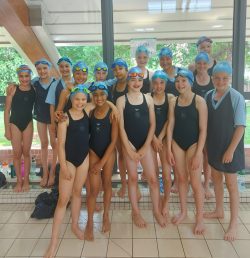 On 19th May, sixteen girls from Years 4 and 6 represented High March at the Division 10 Finals. The girls needed to swim for time, not just placing, under official gala regulations. They could not wait to warm-up and race…..
Ms Norman and Mrs McAlister were delighted with their efforts on the night. Races were fast and the girls did incredibly well indeed, producing multiple 1st and 2nd positions. In addition, High March achieved first placings in each of the relays. A special mention must go to Clemmie, who stepped in at the last minute and swam exceptionally well in her individual 50m freestyle race and helped the relay team produce an all-time personal best in the freestyle. We must also single out Harmeen who produced the second fastest freestyle time in Year 4 on the night and a personal best for her.
We are keeping our fingers crossed that our times are fast enough to achieve placings.
Well done to all our swimmers. You are amazing, girls!