Our first ever virtual Carol Service
17.12.2020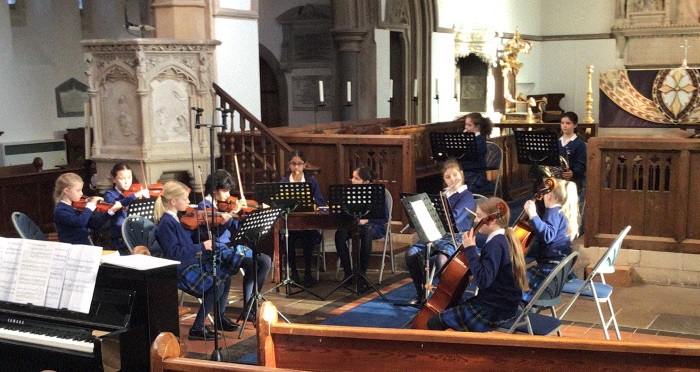 Tuesday 1st December saw the recording of the first ever Virtual High March Carol Service at St Mary's & All Saints Church, Beaconsfield. Although social distancing rules meant that singing in large groups was not possible this year, we were determined to achieve as many of the regular items as possible, even if in a scaled down format.
High March Orchestra (limited to the Years 5 and 6 bubble) provided pre-service carols to keep up the instrumental tradition.  The solo first verse of 'Once in Royal David's City' was beautifully sung from the Organ Loft by Sophie M.  The remainder of the congregational carols were performed the week before in the Upper School Hall, with volunteers (maximum of twenty) from each year group spaced two metres apart, recorded each using the same backing accompaniment. This was then pieced together to create to effect of a large group singing together.
As with our traditional carol services, Year 6 girls read the nine lessons read from the pulpit with delightfully clear diction and maturity, with Mrs Gater providing the final reading. Small numbers from each year group each performed a Christmas song with confidence and abundant musicality, and both Year 6 classes each recited wonderfully choreographed poems.
The service concluded with the popular carol, 'O Come All Ye Faithful', with six girls providing a wonderful pre-recorded descant to accompany the final verse.
Well done to all of the girls for their hard work and congratulations to all for producing a wonderfully festive service in such challenging conditions.