Putting their mathematical skills to the test
03.10.2019
Sofia, Charlotte, Erica and Ellora in Year 4 recently represented High March at the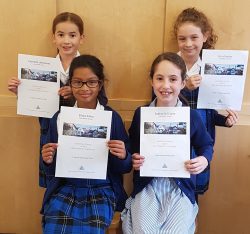 Maths challenge held at Davenies. The event was well attended by twenty schools, each with at least two pairs of pupils.
Over the course of the afternoon, the girls had to complete a number of mathematical tasks, many of which were against the clock. These included adding the totals of dice, completing sequences, addition of money, tangrams and a domino jigsaw. The girls worked with determination and focus during all of the activities, thoroughly enjoying the afternoon.
Both High March pairs achieved final placings in the top twelve, which is a great achievement.