Remembrance Day at Junior House
15.11.2022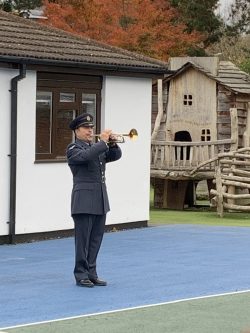 On Friday, Junior House pupils took the opportunity to take a moment to pause in their busy days to reflect on the significance of Remembrance Day.
At the end of playtime, Mrs Honiball, Head of Junior House, read, 'For the Fallen' and Mr Honiball (smartly attired in his RAF uniform!) played the 'Last Post' on the trumpet.  There followed a minute's silence (which is a very long time to be quiet when you are a Junior House pupil!) and Mr Honiball then played the 'Reveille' and the children went about their day.
Miss Birt did an assembly on the significance of Remembrance on Thursday.  It was amazing to see how knowledgeable the girls were and how keen they were to share what they know.  Classes throughout Junior House have completed a range of different activities to support the children in understanding the need to remember.