Starting out in Nursery
20.09.2022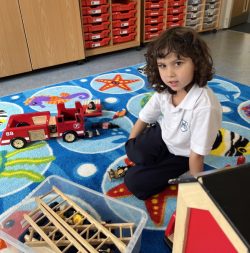 Our youngest children have been having a wonderful time in Nursery and we are pleased to say that  they are all settling into life at High March beautifully.
Nursery girls and boys have been taking full advantage of  our lovely outdoor classroom, using the sand and water trays as well as being creative with free painting, chalking and construction. The children have already had their first mindfulness session where they learnt to be quiet, calm and still.  They have also started their "All about me" topic and have made paper plate faces, looking in a mirror to study their hair, eye and skin colour and then using the appropriate material.
All in all, a fun start to the year for Nursery C!