Stellar results at the Abingdon Vale Biathlon
16.10.2023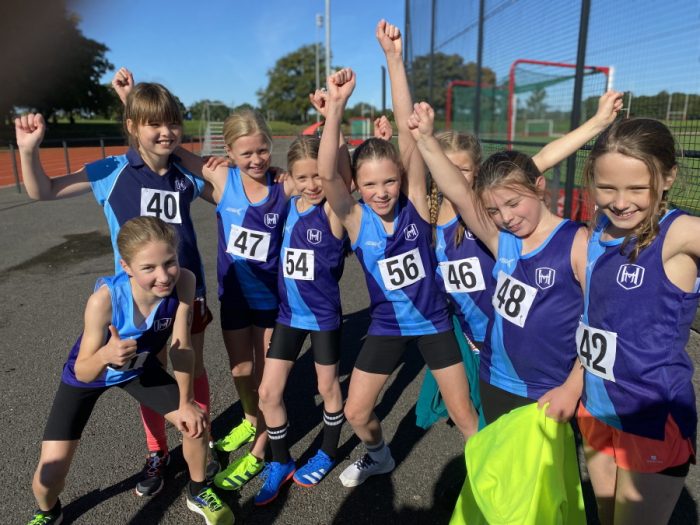 On Sunday 15th October, Mrs Levison and Mrs McAlister were delighted to take thirty girls to race at the Abingdon Vale Swimming Club Biathlon. Set in the beautiful grounds of Radley College, the girls swam 50m (25m for Year 4) before heading to the track to run 800m (400m for Year 4).  This is a tough, maximum effort event and every one of our girls exceeded expectations with many personal best times being recorded.
The event is both a stand-alone competition and a qualifier for the British Schools Championships, held at University of Bath in March. A score of over 2000 points places you well up the national rankings.
We are pleased to announce that Iris J, Alice R, Zoe B and Evie S each earned scores over the magical 2000 points threshold. Competition in the Year 5 category was fierce and even these great scores did not warrant medals. We did, however, win medals in Years 4 and 6 with Amber D taking 2nd place and Cara Stewart 3rd. Congratulations to our medallists who have now automatically qualified for the British Schools finals.
We certainly had our share of stand-out moments on Sunday, notably:
Una C was in the first heat involving High March and she set the bar very high with a truly amazing 400m sprint.
In Imogen M-C's swim heat, she was the only competitor who was not given a penalty for breaking the exit rules.
Elisa P, Astrid A and Evie S each broke their 50m freestyle times and recorded swims inside the qualifying standard for ESSA.
A truly fabulous day and all our girls should be very proud of their achievements. Special thanks must go to Alison Allen and her team from AVSC for organising such a wonderful event and, of course, to all our parents for being magnificent supporters.