Summer reading challenge
13.09.2019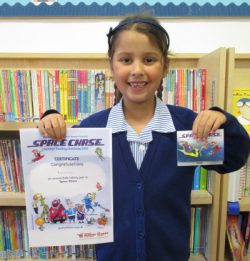 Libraries are great places for children to discover reading for pleasure and there is no better time to do this than during the long summer holidays. In Junior House Prayers on Tuesday 10 September, we were delighted to celebrate the reading achievements of so many Junior House girls who took part in the library's Summer Reading Challenge.  The Summer Reading Challenge is for children between the ages of 4 and 11, is completely free and last year just under 700,000 children took part in libraries across the UK.  This year the Summer Reading Challenge theme was Space Chase, an out-of-this-world adventure inspired by the 50th anniversary of the first moon landing.
The children taking part in the Challenge joined a super space family, The Rockets, for a thrilling mission to track down books taken by mischievous aliens!  Children were set a challenge of reading six or more books of their choice: fiction, non-fiction, joke books, picture books or, in fact, any books of their choice as long as they were borrowed from the library. After reading a book and talking about it in the library with a member of staff or young volunteer, they received rewards along the way and a medal and/or certificate when they completed the challenge.
Well done to everyone who took part in the Summer Reading Challenge this year.  We look forward to displaying your photo in the Junior House Library.