The Eco Committee see recycling in action
24.01.2022
The Eco-Committee was invited to visit High Heavens recycling centre in High Wycombe, a wonderful opportunity to see recycling in action. We were amazed by all the fantastic things that they do there. We always try to recycle at High March, and we know small changes make a big difference;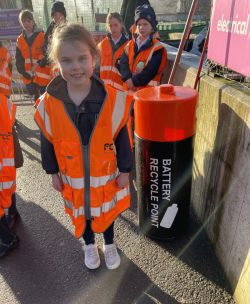 Gemma, our guide, agreed.
We saw how they sorted all the rubbish into different bins and how Matt, the digger, squished the cardboard down to be able to fit more in. Gemma explained that less than 1% of the rubbish goes into landfill and they use our rubbish to make energy by burning it in a special warehouse.  Chris, the manager, also told us that over 800 people visit there every Saturday to recycle their unwanted items from home!
We learnt how they tried to reuse most of the items left. At their shop they had a surprising amount of amazing toys and furniture people had discarded. The hardworking team rescue them and sell them in the on-site shop to raise money for local charities.
The Eco Committee really enjoyed being able to explore everything which takes place at High Heavens and felt inspired to do even more at school. The Committee encourages all High March pupils to continue using our clothing bank at Upper School and to keep recycling – we really are saving the world!