Thistles win the Cheerleading competition
03.12.2020
On Wednesday, December 2, the Year 6 girls took part in the first ever Cheerleading house competition at High March in front of the guest judges, Mrs Dunster and Mrs Campbell. There was much excitement in the air at the thought of  demonstrating their creative flair, everyone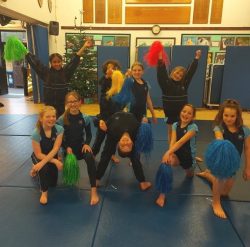 hoping very much that it would be their House which would come out on top.
It was a really lovely afternoon filled with cheer and super performances using a combination of unison, canon, arm movements, formations and linking gymnastic agilities. The competition was exceptionally close with Thistle coming 1st with 34 points, Daffodil closely behind with 32 points, Shamrock were 3rd with 31 points and in 4th   place were Rose with 28 points.
A magnificent afternoon, girls.  Well done!