Year 2 girls are back full time!
08.07.2020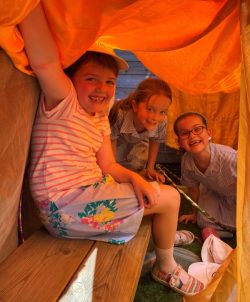 Year 2 girls have been back at High March full time for nearly 3 weeks now and they have relished the opportunity to meet up with their friends and teachers and to resume their learning in school. Due to the current restrictions, they have been in small 'bubbles', having contact with just the girls in their bubble and their teacher, and having their own area in the playground.
During the fine weather, they designed a scavenger hunt in their playground bubble and made makeshift tents to shelter from the sun.
They have been having fun!